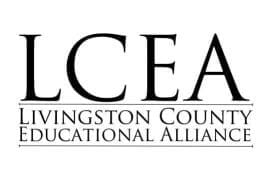 Presenting the 2023 LCEA
Scholarship Recipients!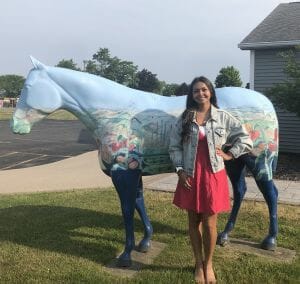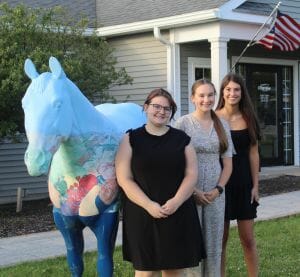 Left to right: Carlee Scaccia, Maggie Bacon, and
Nicole Cartwright
Adryanna Arriaga
Dansville High School
Attending SUNY Geneseo, studying Communications
Adryanna, known by all as Nana, is an AP student active in soccer, tennis, track, band, chorus, and student government.  She has also been a participant in and/or officer of NHS, International Club, Class Council, Pony Express, and Student Council.  Adryanna is a Frederick Douglass and Susan B. Anthony Award recipient, with over 100 hours of community service to her credit.  In addition to these involvements and accomplishments, she has also waitressed at a local restaurant for the past two years.  Her AP English Teacher describes her as kind, inquisitive, intelligent, hardworking, and funny.  "Ask Nana – she'll know,"  "Nana can do it," "See what Nana thinks." are all things commonly heard around school, spoken by students and staff alike.  In her scholarship application essay, Adryanna reflected on her sometimes-challenging experiences as a minority student in a small town and how she has turned that into opportunity through hard work and dedication to be a motivational leader and mentor for others.  SUNY Geneseo will welcome Adryanna into its Communication program this coming fall where she will begin her path toward a career in Human Resources or Public Relations with a focus on pushing boundaries and striving to elevate all people.
Maggie Bacon
Dansville High School and Genesee Valley BOCES Sports Science Academy
Attending St. John Fisher College, studying Sports Management
Aspirational from the word "GO," Maggie's goal is to "…empower women in a male-dominated environment…working in an athletic organization at a management level…to give women a voice and develop a way to lift up young girls who want to become a part of the world of sports as athletes or professionals."  Her High School Principal shared that "she lives by the character traits of honesty, leadership, citizenship, responsibility, and service."  This is exemplified by Maggie's development of "The Bacon Baker" during the pandemic.  She baked as an outlet and to fill time.  Word spread, and people began asking to purchase her baked goods.  She elected to donate all profits and has gifted almost $4,000 to her school's backpack program serving students and families with food insecurities in her school district.  Maggie has been involved as a participant and leader in service, sports, and extra-curricular activities and is ranked 10th in her graduating class.  Accepted into the robust St. John Fisher Service Scholarship Program, Maggie will continue to hone her leadership and community service skills, while expanding on her academic excellence and well-rounded character as she pursues her Sports Management degree.
Nicole Cartwright
Keshequa High School
Attending SUNY Cortland, studying Elementary and Special Education
Band, NHS, Alpine Ski Team, soccer, softball, Key Club,  and more fill Nicole's calendar as she also balances her strong academic standing and year-round, part-time work.  Her high school Spanish Teacher uses several phrases to describe her character, including: "a contagious passion to excel, mature, efficient, hardworking, high achieving, and humble." Another staff member shares that Nicole joined the regional Alpine Ski Team 6 years ago and has grown from an eager, inexperienced skier to a fearless competitor who is always the first to offer positive words of encouragement and congratulations to her teammates.  Nicole is grateful to have grown up in Livingston County and appreciates the values she has acquired here.  From softball camp in Livonia, to All-County Band, The Southern Tier Alpine Ski Race Team, and beyond, she has connected with and befriended students from across the community to build a network of support and kindness.  Nicole enters SUNY Cortland this fall to study Elementary and Special Education with a strong desire to return home, build opportunities for youth, and teach in Livingston County.
Carlee Scaccia
York High School and Genesee Valley BOCES Cosmetology
Attending Monroe Community College, studying Small Business Management
When she opens her extensive tool kit to set up shop, Carlee's incredibly creative personality comes to life.  She chats comfortably with clients and those nearby about her passion for this line of work.  Carlee has been involved in soccer, basketball, softball, culture club and NHS and has been very active in the art program at York Central School.  In addition to these involvements, she also works two jobs and is building a steady stream of repeat nail clients!  Her BOCES Cosmetology Instructor refers to her as a "model student…who leads from the front in any group activity…responsible, resilient, honest, and kind." Her Art Teacher shares that Carlee is creative, a strong critical thinker and problem solver, and someone who has synthesized her cosmetology skills and passion for art with great success.  Carlee's goal is to own her own nail salon.  She is excited to attend MCC's Small Business program to gain the foundational knowledge to own and operate her own business.
Return July 1st to enjoy the post-reception photo of these amazing leaders!