The Livingston County Business Directory

Annually, 25,000 copies of the Official Business Directory & Resource Guide are printed and direct mailed to all residences & business in the County as well as provided for relocation and visitor information requests.  Additionally, we host an online member business directory listing with a keyword search. This invaluable tool reaches far beyond the geographic boundaries of local marketing! It is used by many local residents, tourists, and visitors to locate area businesses that specialize in the products or services which they are seeking. Along with contact information and specialty, each listing provides a link to the member's website.
Chamber Sponsorship
Opportunities
Sponsorships expand your competitive edge by growing your business' image, prestige and credibility.  This is a great opportunity to show your community spirit to both current & potential customers by investing in Livingston County's future.
To learn more about our Sponsorship Opportunities, and all the benefits included with each, contact:
Melissa Savino, Member Services Coordinator
585-243-2222
Melissa@LivingstonCountyChamber.com
Why Advertise In the Livingston County Business Directory:
Direct mailed to 25,000 homes and businesses throughout Livingston County
This is a members-only opportunity.
Professional ad design is included
The only publication that reaches all of the County
An affordable year-long marketing opportunity for as little as $.47 a day
An incredible opportunity to introduce your business to the region, reaching thousands of people & businesses!
Need additional information?  Send us an email!
The Livingston County Chamber of Commerce 
A Marketing Partner That Works All Year on Your Behalf
Our Premier Events offer a unique opportunity to generate brand awareness among our audiences that represent all industries and professions, reaching all of our communities.  Premier Events include:
The Chamber 50+1 Gala [April 2022]
The Taste of Livingston   [May 2022 at Camp Stella Maris]
The Leadership Golf Tournament   [June 2022]
The Annual Farmer Neighbor Evening   [August 2022]
The Chamber also hosts a series of Signature Events throughout the year, designed to connect members to grow their network and their business.
Dream Wedding Expo [February 20, 2022]
The Women's Summit   [May 12, 2022]
The Chamber Coffee Connection   [Monthly event, held the 3rd Tuesday of each month]
Lunch Bunch [Monthly event, held each month at a different member restaurant]
Campground Bag Drop [May 25, 2022]
Restaurant Week [Oct. 3 - 7, 2022]
Leadership Livingston [monthly Sept 22 - June 23]
Annual Holiday Meeting [Dec. 1, 2022]
The Chamber Coffee Connection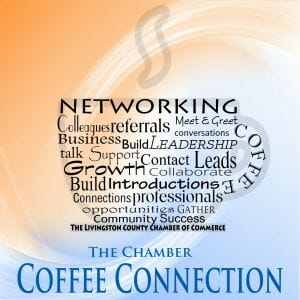 Join us for the Chamber Coffee Connection - Because you don't know who your next best contact is! The Chamber hosts a monthly networking event at 8:30 am on the 3rd Tuesday of each month.
This members' only exclusive event continues to remain a well-attended gathering of local businesses that quite often results in being a lead generating business referral opportunity!
We hope you'll join us so you can share a brief summary of your business and connect with others in the Livingston County community. Please bring your business cards and any other marketing materials that you would like.  The event is free and open to our members. Registration is not required but is encouraged.
Membership Mailing Labels
Advertise special events or promotions to your fellow Chamber Members by having access to over 600 Chamber members with printed / ready to use labels for a low fee of $100.